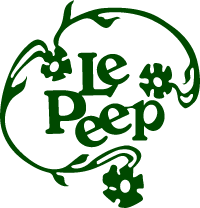 Step into Le Peep and there's a good chance you'll be greeted by name. This delicious breakfast and brunch spot has served the community for over 20 years and prides itself on getting to know you and your family. For your dining pleasure, they offer a wide range of homemade options along with some of the best coffee in town and even mimosas for those special occasions.
Need to eat gluten free? No problem at Le Peep.
Have other dietary restrictions? They've got you covered.
Like a good discount? Check out the loyalty program.
On staff at the hospital or shopping center or a member of the military or the police? They have discounts especially for you.
If you're looking for a clean, friendly atmosphere with great people and great food, look no further. Stop by Le Peep's to meet your new local family.
Le Peep appreciates its over twenty year partnership with Sabre Realty, its trusted landlord. They are first to express their gratitude for the powerful working relationship with Sabre, particularly during the pandemic–and look forward to a continued, beneficial and long-term alliance. Sabre Realty is a premiere property management company that strongly believes in the value of serving the local community and providing exceptional service to all of its tenants.